Coffret Duo Sets 2019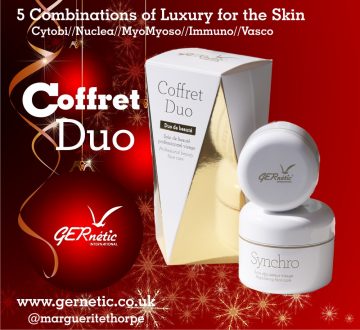 It wouldn't be Christmas without GERnétic's Special Coffret DUO Sets.
This year's cherished and eagerly-awaited Duo comes in a beautifully designed package, a high-quality environmentally-friendly white box with gold trimmings.
They are exceptionally good value for money.
Each Duo contains our star product, Synchro and a choice of a second product to enhance your skin, you choose from Immuno, Vasco, MyoMyoso, Nuclea or Cytobi.
Synchro: our all-year wonder – this extraordinary cream nourishes, moisturises, revitalises, rejuvenates and heals the skin.
Immuno: a nutritive creamy mask with essential stimulating and regenerating action. Mix with Synchro to regenerate, firm and improve the skin. Excellent for reducing scarring.
Vasco: Cream for sensitive skin and those with redness. Provides comfort and softness and helps with blotchiness and couperose.
MyoMyoso: Toning and lifting cream which optimises activity of facial muscles and strengthens the elasticity of your skin and smooths away wrinkles.
Nuclea: Intensive, regenerating and repairing booster cream, excellent results on skin with depigmentation. Non-greasy.
Cytobi: The ultimate defence against ageing. Super nutritive cream. Exceptional results for all kinds of skin problems like acne rosaceous and eczema.
A great present to your special someone, a good friend, family or just a special treat to yourself! Don't miss out!
Talk to your Local GERnetic therapist or contact us for more information