Stop the clock
Stop the clock with Les Parfaits, GERnétic's advanced cellular anti-ageing technology!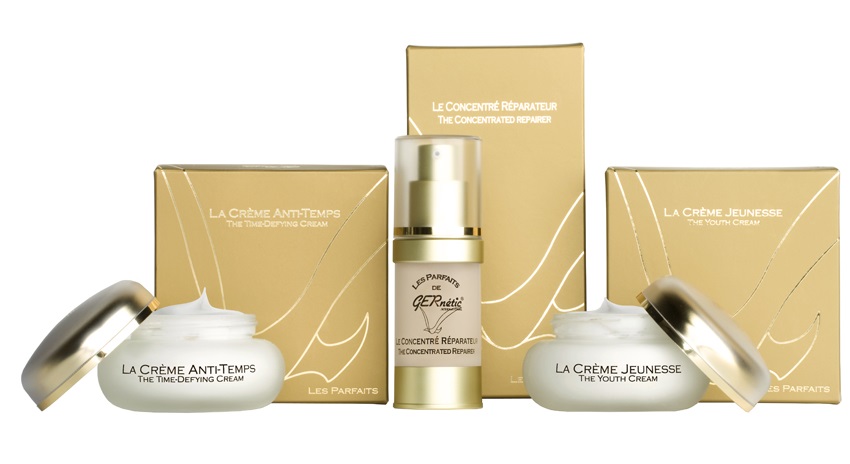 Les Parfaits is GERnétic's premium anti-age line. It is the result of extensive research into cellular biology and advanced biotechnology. Les Parfaits range makes use of the most potent active ingredients available to cosmetology today.
This includes an extract from Thermus thermophilus, which lives in hot water springs (75°C) that are found in the depths of the ocean between 2,000 and 4,000 metres under sea level. This bacterium is characterised by the distinctive chemistries of its cell wall and ribosomal ARN and by the exceptional ability it has to repair its own genetic make-up. LaboGer's is the first laboratory (to our knowledge) to have used an enzyme extracted from this bacterium in a skin care product.
Other exotic active ingredients that give Les Parfaits its incredible properties include xylem sap from birch (considered to be an elixir of health and long life since the 9th century), extracts from Kigela Africana, Quillaja Saponaria Molina, Chritmum Maritimum and Porphyridium Cruentum associated with biological compounds rich in amino acids, trace elements and vitamins.
Les Parfaits consists of three products:
Concentrated Repairer Serum
Concentrated Repairer is the ultimate anti-ageing serum. It naturally rebuilds the matrix in conjunctive tissues by boosting the activity of the fibroblasts, thus increasing skin's elasticity. Concentrated Repairer also provides genuine cellular repair in ageing, demineralized, dehydrated skin, marked by wrinkles, small lines and slackening tissue.
Youth Cream Day Cream
Youth Cream is a powerful protective, detoxifying and repairing cream. It reverses skin damaged caused by the sun, poor lifestyle or illness and gives the skin a genuine biological 'lifting' effect to help preserve or regain a youthful appearance.
Time-Defying Cream Night cream
Containing a powerful cocktail of active nutrients to combat ageing at cellular level, Time-Defying Cream regenerates the skin from within. Time-Defying Cream has soothing and desensitizing benefits, it is particularly recommended for sensitive and fragile skin.