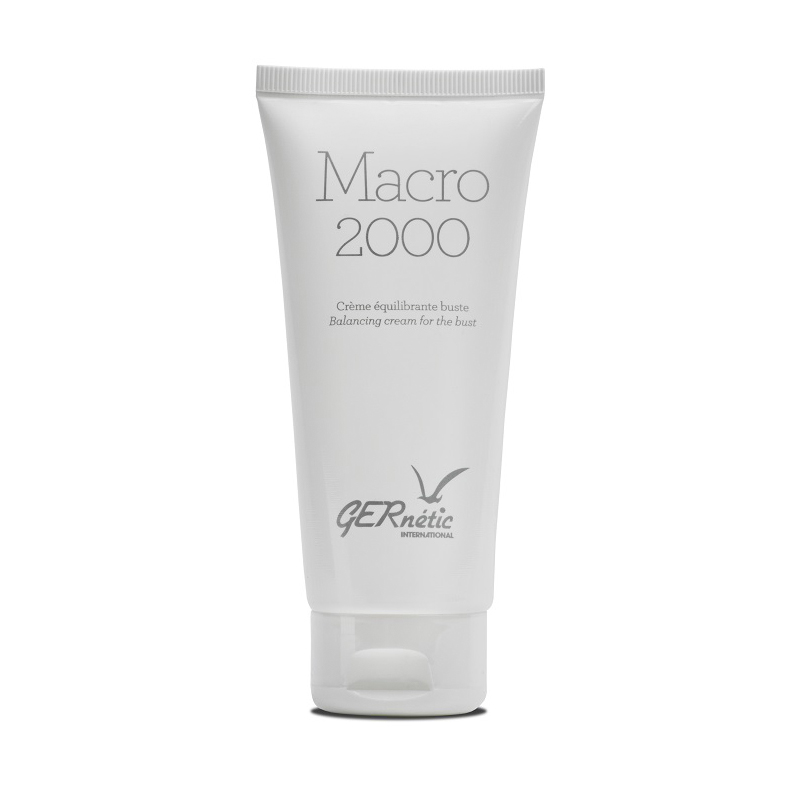 Macro 2000 – Balancing cream for the bust
The bust care and bust balance are linked together with the overall good health of the woman's physiological system. We cannot separate the bust from the importance of nutrition, digestive system, all linked to the endocrinal system and overall good health.
The deficiencies of an industrial nutrition lead to many digestive disorders, which themselves cause nutritive deficiencies to our bodies. The bust is particularly affected by this nutritional unbalance. The Laboratories GERnétic Synthèse have created a technique to compensate for these deficiencies by percutaneous adsorption of active ingredients developed from BIO-Technology. The natural active agents developed from a new concept of Bio-Botanical extracts from several plants (horsetail, myrrh, ivy, etc…) and marine elements (chlorella, spirulina, ets…), all rich in essential elements.
Active ingredients:
amphiphilic palmitoyl bio-peptides, one with glycyl, histidyl and lysine that are fundamental for collagen renewal and the second one, called elastic peptide, made of valyl, glycyl, alanyl, prolyl and glycine that are fundamental for elastin renewal.
Vitamin B9 folic acid, vitamin E a-Tocopherol, selenium and histidine.
An expertly balanced blend of 8 essential amino acids.
A synergy of extract of horsetail, rich in organic silica, myrrh, sage, burdock and thyme.
Extracts of spirulina and chlorella rich in proteins.
Home use: AM and/or Pm
Macro 2000 has to be used daily after the application of Seino for good results. Apply all over the bust area and massage it in gently with light upward strokes.