Can't Live Without My Synchro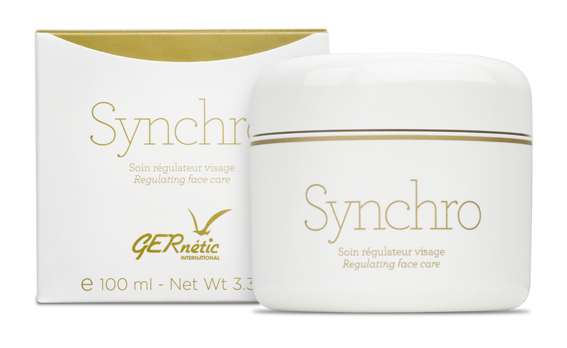 Our star product, the most used and popular product, Synchro is the one cream you cannot go without.
Often copied but never equalled, Synchro with its regenerative powers is designed to nourish and revitalize the skin. Synchro is the perfect remedy for dehydration, ageing, wrinkles, couperose and rosacea. Thanks to its unrivalled rejuvenating, nutritive and healing properties, GERnétic's hero product Synchro will prepare the skin for any weather to come. Synchro is suitable for all skin types and conditions and requires only a small amount to be applied.
It is at the very core of GERnetic's research and philosophy. Its cocktail of active amino acids, trace elements, vitamins and rich oils is designed to nourish, hydrate and calm your skin. It also has the notable property of preventing moisture evaporation from the epidermis. Thanks to its active ingredients, Synchro stimulates and maintains an optimal level of cellular renewal.
Synchro got its name from synchronisation – the action of making two or several elements act together to intensify results. That is exactly how this cream works its magic. Composed of three biological compounds rich in the amino acids Glutamine, Arginine and Lysine, it provides energy to the cells to assist in the manufacture of collagen and elastin, increasing skin rejuvenation and tissue repair. A cocktail of Vitamins A, C, E, H and B complex provide essential nutrition and free radical protection to the cells.
Excellent for acne, old and new acne scarring, mix together with Immuno Mask it becomes very potent.
Perfect for all skin types, from oily to very dry and sensitive, it can also be used on the bust, body, hands and scalp.